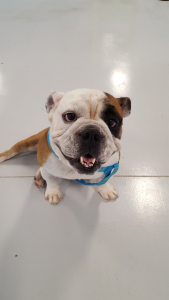 First of all I want to say that I, Sir Frederick, the CEO of The Pet Doctor thank you for attending this press conference that I'm holding in regards to the photos leaked to the media by certain members of my core staff. Punishments will be doled out as I see fit. But to get ahead of the media explosion that is now being called by our shareholders the "Fletcher Effect", we'd like to say "Welcome" to the family.
As a good, loyal, and amazingly handsome and divine big brother I'll take young Fletcher under my wing and teach him the finer things about life here running the best vet clinic and doggie daycare in Myrtle Beach. Just some of the things I will teach him are:
I get all cheesy puffs, the aren't for Fletchers
Only I am handsome, after a trial period he may be dubbed with the title cute
I approve of all mommy love cuddle sessions, that he won't be part of
I'll be part of all press releases as I am the face of the business, he will remain in the back
NEVER. TOUCH. MY. BED…… YOUR BED IS ALSO MINE.
Until your trial period is over, you must pay 15-20% of your food portions to Me as a boarding fee
Of course there will be other things about the business that I will teach him, but those are the most important.
The guilty party who leaked the info about our new team member will be dealt with swiftly I assure you. The cheesy puff tax has risen considerably here to meet the new needs. We are saddened by the addition, I mean overjoyed that he has joined the team and is eager to put his best paw forward towards our continued success. Per the request of many of you out there we will leave the rest of this conference with pictures of the accused, I mean our new employee.
Thank you,
Sir Frederick