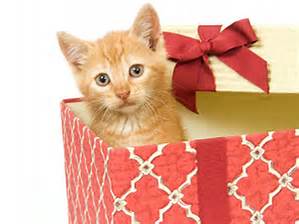 Are you still looking for that perfect gift for your four legged family members? Well look no further, we have compiled a list of 5 items for Canines, Felines and for both from our very own clinic as well some other establishments!!
Dogs:
Harness/Leash Set– These can be purchased at any local pet store and every canine can always use a new set! Remember that you pay for what you get. Make sure to look for durable material as well as complete comfort for your pet.
Starmark Chew Toys– These offer hours of distraction and fun for your canines and come in a variety of  different shapes, sizes and flavors. Stop into The Pet Doctor to pick one up today!
Beds– Beds tend to wear out very quickly and comfort is always a must for your pet. We have found that some of the best options can be found at PetSmart, Petco, Sam's Club, Costco, and Orvis.
Active Toys– Is your dog a high energy dog? Then you may want to consider buying them an agility course!! You can purchase them online or at most of your local pet stores! When spring rolls around you can set them up in your backyard and work with their discipline training as well as running out some of there pent up energy.
Older Dog Options– You need to think Orthopedic beds, Stairs to easily access furniture, joint supplements, etc. These are some options for your older canines that may need to have a little more comfort in their lives as they continue to age. They will definitely thank you, when they can rest comfortably at the end of the day!
Cats:
Tree Houses– These are great for your cats to have a new place to sleep and explore as well as also using it for exercise purposes! We have found that your best option is Costco. A large cat tree house runs around $73.99 which is less than most small tree houses at other pet stores.
Litter Box/Scoop– We know that this may not be the most exciting gifts in the world, but it is always a good idea to switch out your litter boxes every so often. We recommend cleaning them at least once a month or more if you have multiple pets but its always a good idea to switch them out completely as they do see a lot of wear and tear!
Active Toys– Although regular mice and such are good idea for toys, we like to see pets a little more active. So try purchasing one of the many options out there for interactive toys. It keeps your pets mind and body healthy!
Scratching posts and boxes– Whether your feline is declawed or not they still like to be able to rub/scratch their little paws. So we recommend purchasing a nice scratching post or one of the many varieties of cardboard options as well! Bonus if you can find a Tree House with a built in Scratching post on it 🙂 (Note: They prefer for them to be as stable as possible. I purchased a door hanging one but it moved too much, once I laid it on the ground my little guy just cannot get enough!)
Stocking– Cats can be very fickle about the toys that they play with and to add on to your active toys you may want to consider picking up one of the pre-made stockings that you can purchase at any pet store, Target, or WalMart. They come with a variety of different toys at a very reasonable price. Your pet can choose out his or her favorite ones and they you can donate the rest to a local animal shelter!!
For both Canines & Felines:
Gift Certificate for Healthcare– Veterinary care can be vey expensive, especially if you know someone that has multiple pets. Stop in today to The Pet Doctor and you can apply any amount that you wish to someone's account as well as take home a gift certificate that they can open!! Healthcare is really the gift that keeps on giving 🙂
Bath Products– Here at The Pet Doctor we carry a wide array of different bath products for your pets. Nobody likes a stinky pet 🙂 We have Shampoos, Conditioners, Body Sprays, and Ear Cleaners. All of which are based on Bath & Body Work scents, such as Cucumber Melon, Sugar Cookie, Cherry Blossom, Eucalyptus, etc. During the Holiday Season we also carry Peppermint, Gingerbread, and Pine scents as well!
Pet Sitting– If you are looking for a good gift for a pet parent. What better than a certificate for Pet Sitting during the Holidays! It is always hard to find the perfect pet sitter and its so much easier to have that already in place before you decide to take your next trip!!! One that we always trust is "3 Cats & A Dog Pet Sitting". They are amazing and take care of your pets like they were their very own! Also we will be opening The Pet Doctors Doggie Daycare and Boarding Facility this Spring!
Food and Treats– The one way to all pets hearts is through their stomachs! You can pick up many different treats and foods at any Pet Store as well as also picking it up at our clinic. If your pet is on a special diet or you are looking for specialty treats, then look no further!! Make sure when shopping for food you are looking for the AFCO Statement on the package. This way you know you are getting a top of the line food that has been approved as a good quality food for your pets.
Flea & Heartworm– Make sure to keep your pets happy and healthy! Do so by making sure to purchase and keep your pet on their flea and heartworm all year long! As long as your pet has been seen at our facility and tested for heartworms you can stop in and pick up any product that we can decide will work best for your pet! Another healthy gift that will keep on giving!