Do you have more than one furry friend? Be sure to ask us about

Multi-Pet Discounts

!
Pet Doctor Payment & Requirements
Open Sunday-Saturday 7am-7pm (except holidays which hours are subject to change)
All Pets Are Welcome when space is Available
No more than 3 pets per suite if under 30 lbs each (6×6 only)
First Come First Serve Basis
Tours are scheduled between 10-11am & 2-3pm any day of the week (appointments recommended)
Check-in can be at any time
Check out is by 10am, otherwise an additional daycare charge will be incurred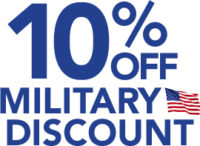 Payment Policy
All pricing is subject to change without warning.  Please call the facility for updated pricing
**We do not accept checks
We accept Visa/MasterCard/Discover/American Express/Cash/Care Credit
50% Deposit required for All Overnight boarding reservations (72 hour cancellation notice for full refund)
50% Deposit for All Holiday Overnight reservations (must give 72 hour cancellation notice for full refund)

Holidays include: Easter, Memorial Day, Independence Day, Labor Day, Thanksgiving Day, Christmas Eve, Christmas Day, New Year's Eve, and New Year's Day
Holiday Charge: Everyone wants to spend time with their family and friends, but we know you have to be away and you have entrusted us with your family member during this time.  We require a $8 a day/per pet holiday charge in addition to normal boarding charges to care for your pets during the holiday times specified.
No pick-ups or drop-offs on Holidays
No daycare services on Holidays
No grooming services on Holidays

If your pet is not spayed or neutered there is a $7 daycare charge and $15 boarding charge added per day.  (Unless the Lone Ranger Package has been purchased.)
Requirements
1st time clients, please come ½ hour early for your visit or a day early to fill out paperwork & tour the facility.

Welcome Information Sheet
Behavior Evaluation Sheet
Medical History Sheet
Medical treatment, emergency information & permission form

A behavior evaluation and consultation will be performed
It is highly recommended that your pet(s) be spayed or neutered

There is an additional cost if they are not
Intact males & females will only be allowed to interact with individual staff & not the other vacationers
Space is very limited for these vacationers

Your pet(s) is/are REQUIRED to have all of these items at time of check-in (All must be given by a veterinarian)
Certification Required at time of Check-In

1 yr. or 3 yr. Rabies vaccine
1 yr. DHLPP (THIS MUST INCLUDE LEPTOSPEROSIS)
6 month Bordetella
6 months Fecal
Yearly Heartworm test
Yearly veterinary examination by a Veterinarian
Proof of Purchase of Flea & Heartworm Preventative from your Veterinarian

**Flea collars will not be accepted

If a veterinarian has deemed your pet to have a vaccine reaction, it must be via Veterinarian's written notes of this exception (please note: your pet may have to stay in the isolation suite per our Veterinarian's discretion)
Your pet(s) must be currently on Heartworm prevention purchased from a Veterinarian with proof from the Veterinarian (**online pharmacy purchases do

not

count)
Your pet(s) must be currently on flea and tick prevention purchased from a Veterinarian with proof from the Veterinarian (**online pharmacy purchases do

not

count)
If any of these requirements are not met, the necessary treatments can be administered by one of our trained staff here, for an additional fee.
If fleas are seen on your pet(s) while in the facility, they will be treated at your expense. We aim to protect all pets in the facility including yours.
**All requirements are for the safety of your furry family members as well as others**