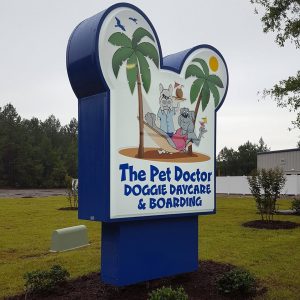 *Cue Epic Voiceover music and Voice*
The time has begun! Ladies, Gentlemen, Puppies and kitties, Let The Boarding begin!!!!!!
*Cue amazing fanfare*
Oh yes, it's no joke and I Frederick proudly announce that our Doggie Daycare and Boarding facility is open for business!
Things you need to know:
You can find us here:
501 Myrtle Ridge Dr., Conway, SC 29526 and our phone number is 843-349-1333. Be sure to call us to book a spot for boarding. They are filling up fast by the way!
Don't forget to give us a call and have your pet examined and vaccinated so they can board with no fear at our awesome facility. If they are up to date, but are nearing their due date for vaccinations remember we are owned and operated by a Veterinarian. The Boarding facility does offer some veterinary services such as vaccinations. We can take care of your loved one while you play!
Speaking of playing, when you board with us your pet gets two 20 minute play breaks outside with our other day visitors or boarders as long as the weather is permitting. Lunch breaks are outside as well as long as Mother Nature cooperates. There are bathroom breaks in the morning and the afternoon, but if your pet needs more, just alert the staff and we'll accommodate. If your pet is on a medication that induces more urination breaks, just let us know and we'll accommodate your pet.
Remember we're not just an overnight boarding facility, we do offer daycare for half days and full days. A half day is four (4) hours or less. A full day is anything over 4 hours past the time of check in. We DO NOT OFFER DAYCARE DURING HOLIDAYS, sorry for the inconvenience. Call our office for more information and booking.