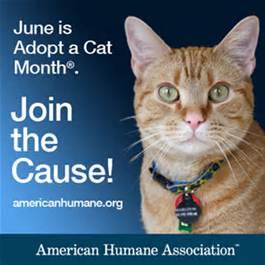 Hey guys welcome back to the Katz Korner of our blog. It's Hokie here, and I'm glad to say welcome to June! Welcome to summer, and finally welcome to Adopt-a-Cat month! The American Humane Association and the ASPCA have started the Adopt-a-Cat month to raise awareness on the situation that millions of shelter cats are going through. Plus with spring underway it's "kitten season" and that means the numbers being admitted to the shelter are increasing by the thousands. The genius at The American Humane Association and the ASPCA want to alleviate that burden and get my feline brethren into loving homes. With that said I hope you are considering adding a cat to your home. Before choosing a cat here are some helpful ideas that the American Humane Association:
Maybe Adopt two– Cats are beings that need exercise, social interaction, and metal stimulation. If you have two feline friends in the home they can do provide this to each other. You can start your search for a feline friend on www.petfinder.com
Match Personalities– Each cat like each person has its own personality, so you need to pick one that will match your own. Cats with long hair and round hands/bodies tend to be more easygoing. But their lean brethren with a shorter coat and narrow heads are usually more active just so you know.
Pre-schedule a check-up– You should have a veterinarian (The Pet Doctor *cough cough) picked out and make an exam scheduled. Keep any records that your adoption center gives you and take them to the appointment to make sure everything is okay with your new fur baby.
Prep the Household members– Take your family to the adoption center to meet and choose your new pet together. Also, speak with the adoption agency for ideas on introducing them into your family unit.
Budgeting– Make sure you have a budget in place for getting the things your cat needs initially and in the future. These things could include initial vaccines and a microchip, or getting your friend Spayed/Neutered.
Stock up on Supplies– Make sure you have supplies for your cat so they can transition easily and quickly. They need a litter box/litter, food and water bowls, toys/scratching posts, a nice bed, a brush for grooming, and nail clippers.
Cat-proof your home– We cats will teach you not to leave stuff around. Cats find and play with anything laying around, so pick up things like paper clips and other small items that we may swallow by accident. Don't leave food around because cats may try to find it and make a meal out of it, even if it's on the counters in the kitchen.
Go Slow– Take your time introducing your cat to new friends and family. Seclude the furry friend to a room for a few weeks with his food/water, litter box, toys, and an open cat carrier with soft bedding inside of it. Especially for kittens, socialization is key, but you need to take it slow.
Include your Pet in the Family Emergency Plan– If you have an emergency plan in place add the necessary steps to protect your pets. Also have the number to your vet and emergency clinic on hand as well.
Cat Gift Giving– If you're thinking of giving a cat as a gift make sure the recipient is ready for it and are a part of the adoption process. A cat is a living being and can't just be returned to the store like a blender
So with that said keep it in mind that June is Adopt-A-Cat month. Spread the word and if you can participate in it yourself! Give a feline a good home this summer!
-Hokie